Ok, so I'm not an American. Or even live in America. To be completely honest, I have no claim to celebrate Independence Day at all.
But that hasn't stopped me from making this festive fruity red, blue & white fruit pizza! It's hard not to be inspired (or peer-pressured) when there's red, white & blue foods popping up all over the blogosphere.
Like this super easy coconut cream parfait from Kimmy at Rock My Vegan Socks:
Or this mouthwatering raw berry almond tart from Amy at Fragrant Vanilla Cake: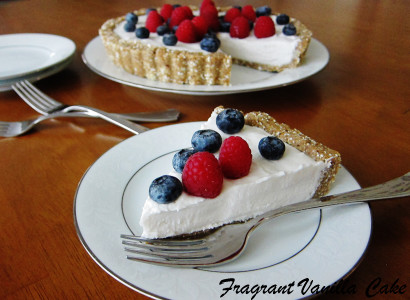 Or this yoghurt parfait from Sam at PancakeWarriors (loving that granola CRUNCH in the middle!):
Yum. Just look at all those berries! Can you see why I couldn't resist making my own patriotic dessert fruit pizza?
Although I intended this to be a dessert pizza, my toddler and I ended up eating it for breakfast. Toddler approved!

Red Blue & White Fruit Pizza
A patriotic fruit pizza with loads of fresh fruit and coconut yoghurt.
Ingredients
¾ inch thick slice of watermelon
150g coconut yoghurt
3 large strawberries
¼ cup blueberries
Instructions
Slice the watermelon into triangles.
Spread some yoghurt onto the top of each triangle.
Quarter the strawberries, and place on top of the yoghurt along with the blueberries.
Serve immediately or keep chilled for a few hours.
Sharing this recipe at
#freefromfridays
, 
Healthy Vegan Fridays
and the
Plant-Based Potluck
<3
What are you doing to celebrate this weekend?
Do you like to eat dessert for breakfast? Or breakfast for dessert? (I'll admit to doing both!)